The Who

Hits Back


North America Tour 2022

25. March LONDON Royal Albert Hall (acoustic concert at Teenage Cancer Trust shows)

| | |
| --- | --- |
| 22. April | HOLLYWOOD Hard Rock Live, FL |
| 24. April | JACKSONVILLE Vystar Veterans Memorial Arena, FL |
| 27. April | TAMPA Amalie Arena, FL |
| 30. April | NEW ORLEANS Jazz & Heritage Festival, LA |
| 3. May | AUSTIN Moody Center ATX, TX |
| 5. May | DALLAS American Airlines Center, TX |
| 8. May | THE WOODLANDS The Cynthia Woods Mitchell Pavilion, TX |
| 10. May | OKLAHOMA CITY Paycom Center, OK |
| 13. May | MEMPHIS Fedex Forum, TN |
| 15. May | CINCINNATI TQL Stadium, OH |
| 18. May | BOSTON TD Garden, MA |
| 20. May | PHILADELPHIA Wells Fargo Center, PA |
| 23. May | WASHINGTON Capital One Arena, DC |
| 26. May | NEW YORK CITY Madison Square Garden, NY |
| 28. May | BETHEL Woods Center For The Arts, NY |

| | |
| --- | --- |
| 2. October | TORONTO Scotiabank Arena, ON Canada |
| 4. October | DETROIT Little Caesars Arena, MI |
| 7. October | BELMONT PARK UBS Arena, NY |
| 9. October | COLUMBUS Schottenstein Center, OH |
| 12. October | CHICAGO United Center, IL |
| 14. October | ST. LOUIS Enterprise Center, MO |
| 17. October | DENVER Ball Arena, CO |
| 20. October | PORTLAND Moda Center, OR |
| 22. October | SEATTLE Climate Pledge Arena, WA |
| 26. October | SACRAMENTO Golden 1 Center, CA |
| 28. October | ANAHEIM Honda Center, CA |
| 1. November | LOS ANGELES Hollywood Bowl, CA |
| 4. November | LAS VEGAS Dolby Live, NV |
| 5. November | LAS VEGAS Dolby Live, NV |
| | |

tickets at ticketmaster.com

Talking 'Bout My Generation by William Wagner (Novel)
Talking 'Bout My Generation: The Amazing Journey of Pete Townshend's Woodstock Special is an imagining of what happened after that guitar left Townshend's hands. Over the course of three decades, the Gibson SG Special touches the lives of an array of colorful characters. The guitar is a symbol of hope, but will it survive its amazing, sometimes harrowing journey? And will it ever be reunited with Townshend? The only way to find out is to read on. 360 pages, released on 18 August 2022.

Dieser 360-seitige Roman ist ein Gedankenspiel, was mit Townshend's Gitarre passierte als er sie beim Woodstock Festival von der Bühne warf. Über einen Zeitraum von drei Jahrzehnten kam die Gibson SG Special mit einer großen Anzahl von illustren Charaktären zusammen. Die Gitarre ist ein Symbol der Hoffnung, aber wird sie ihre erstaunliche, manchmal erschütternde Reise überleben? Und wird sie sich jemals mit Townshend wieder vereinen? Der einzige Weg, es herauszufinden, ist weiterzulesen. Englischsprachig, VÖ 18. August 2022.


more information and available at eckhartzpress.com

The Who Sell Out & Tommy - half speed mastered LP's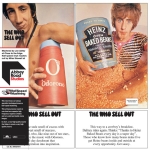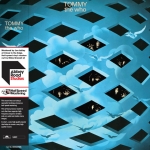 After
My Generation
and
A Quick One
long time Who sound engineer Jon Astley has now reproduced the next two Who albums using the half speed mastering technology and cut the result on vinyl at Abbey Road Studios. They are available in limited edition in their original cover design and contain the then enclosed libretto (Tommy) and poster (Sell Out). (Release date 6 July 2022)

Nach My Generation und A Quick One hat der langjährige Who Toningenieur Jon Astley nun auch die nächsten beiden Who Alben im Half Speed Mastered Verfahren reproduziert und in den Abbey Road Studios auf Vinyl geschnitten. Sie sind als limitierte Ausgabe im Original-Coverdesign erhältlich und enthalten das damals beigepackte Begleitheft (Tommy) und Poster (Sell Out). (VÖ 6. Juli 2022)

My Generation & A Quick One - half speed mastered LP's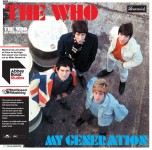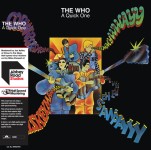 Long time Who sound engineer Jon Astley has now reproduced the first two Who albums using the half speed mastering technology and cut the result on vinyl at Abbey Road Studios. The original songs from 1965 and 1966 can now be heard in stereo, the two albums in their original cover design are available in limited edition. (Release date 6 May 2022)

Die beiden ersten Alben der Who hat der langjährige Who Toningenieur Jon Astley nun im Half Speed Mastered Verfahren reproduziert und in den Abbey Road Studios auf Vinyl geschnitten. Die Original-Songs von 1965 und 1966 sind nun in Stereo zu hören, die beiden Alben sind im Original-Coverdesign und als limitierte Ausgabe erhältlich. (VÖ 6. Mai 2022)

It's Hard - Record Store Day Edition (2LP)
The Who's album from 1982 is reissued on this years Record Store Day to celebrate its 40th anniversary. The 2LP edition is pressed on 180g heavy vinyl in orange and yellow colour. Again Jon Astley does a remastering. The album which was cut at half-speed contains also 4 tracks with new alternative mixes including the

Eminence Front

version with Roger on vocals and a full-colour poster. (Release date 18 June 2022)

Das Who Album von 1982 feiert sein 40-jähriges Jubiläum mit einer Wiederveröffentlichung zum Record Store Day. Die 2LP Edition ist auf 180g schweren, orange- und gelb-farbigen Vinyl gepresst. Erneut hat Jon Astley die Songs remastert. Das im halfspeed-Verfahren geschnittene Album enthält zusätzlich 4 Songs in neuen Versionen, unter anderem Eminence Front gesungen von Roger, und ein farbiges Poster. (VÖ 18. Juni 2022)


Pete Townshend's Deep End - Face The Face - Record Store Day Edition (2LP)
In January 1986 Pete Townshend and his Deep End band featuring David Gilmour on guitar, John 'Rabbit' Bundrick on keyboards and Simon Philips on drums among many other musicians played a concert at the Midem in Cannes. The show which was TV-broadcasted by the German Rockpalast has already been released on CD/DVD and it will now be available on 2LP yellow vinyl at this years Record Store Day. (Release date 23 April 2022)

Im Januar 1986 gaben Pete Townshend und seine Begleitband The Deep End mit Gitarrist David Gilmour, Keyborder John 'Rabbit' Bundrick, Schlagzeuger Simon Philips und vielen weiteren Musikern ein Konzert bei der Midem in Cannes. Der Autritt, welcher vom Rockpalast live im TV übertragen und bereits auf CD/DVD veröffentlicht wurde, ist nun als 2LP Edition auf gelbem Vinyl zum diesjährigen Record Store Day erhältlich. (VÖ 23. April 2022)


The Who News Archive

Autographed Guitar for Who Fans


This great piece of memorabilia was autographed by Roger Daltrey, Pete Townshend and John Entwistle in 2001. Enclosed is a certificate of authenticity. See photos for details.
The current owner wants to pass the guitar to a real fan and he doesn't want to realise a fortune but a reasonable return. The guitar will be shipped from United Kingdom at the expense of the buyer.
If you're interested in owning this unique autographed guitar, please contact me including your price offer
chris@the-who.net
(advertised in April 2022 by request of the guitar's owner)

The Who Lost Albums by Brian Stefans
Brian Stefans created a website that imagines additional albums for the Who's career, including an LP under the name of the High Numbers. Brian did a really notable job gathering together and organize all the non-album tracks that have appeared on the streaming services. He has even designed covers and each album also has extensive liner notes with partly fictional explanations of how the albums came to be.

Brian Stefans hat eine Webseite mit denkbaren zusätzlichen Who Alben gestaltet, inklusive einer High Numbers LP, und hat dabei wirklich bemerkenswerte Arbeit geleistet, die ganzen bisher nicht auf Alben erschienen Songs über Streaming Services zusammenzustellen. Brian hat hierfür sogar Plattencover entworfen und zu jedem Album eine ausgiebige Entstehungsgeschichte geschrieben.


The Who - The Lost LPs

The Who Onstage 1969-1971 by Stewart Hellman (Book)
This book features 125 photos Stewart Hellman shot from front row orchestra seats at Woodstock, Fillmore East, Tanglewood Music Shed and two gigs at Forest Hills Tennis Stadium. It is available in paperback and hard cover (coffee table) forms and can be purchased from amazon.com and barnesandnoble.com and many other sites.

Stewart Hellman's Buch enthält 125 Fotos, die er in Woodstock, Fillmore East, Tanglewood Music Shed und bei zwei Konzerten im Forest Hills Tennis Stadium unmittelbar vor der Bühne aufgenommen hat. Es ist als Paperback und Hardcover erhältlich und kann unter anderem bei amazon.com und barnesandnoble.com gekauft werden.


The Who Cup by Daphyl's
Daphyl's proudly brings the world of Rock 'n' Roll to our youngest generation. Give your little one a lesson in music history with this legendary The Who

Union Jack

Insulated Sippy Cup by Daphyls. This stylish design features a locking and spill proof lid with an easy to clean soft spout. Perfect for your own cool rockin' toddler. Discover many The Who and other bands products at Daphyl's shop.

product information

Daphyl's shop
---
© 2000-2022
This site is hosted by Christian Suchatzki, Germany
chris@the-who.net