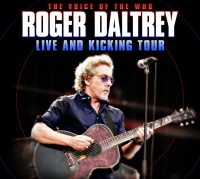 Roger Daltrey

Solo Tour 2021
| | |
| --- | --- |
| 19. August | SAN DIEGO, CA The Shell |
| 21. August | NEVADA STATELINE, NV Lake Tahoe Outdoor Arena at Harveys |
| 27. August | SANTA BARBARA, CA Bowl |
| 1. September | SPOKANE, WA Northern Quest Resort & Casino |
| 3. September | PUYALLUP, WA Washington State Fair |
| 8. September | SALT LAKE CITY, UT Red Butte Garden |
| 11. September | LAUGHLIN, NV Event Center |

Face Dances - Record Store Day Edition (2LP)
On the occasion of the 40th anniversary of the 1981 released album a new 2LP edition on blue and yellow heavy vinyl is put out on Record Store Day. The songs of the original album plus 9 bonus tracks were remasterd in halfspeed technique by soundmaster Jon Astley. (Release date 12 June 2021)

Zum 40-jährigen Jubiläum des 1981 veröffentlichten Albums erscheint am Record Store Day eine 2LP-Neuauflage auf blauem und gelbem Schwervinyl. Die Songs des Originalalbums plus 9 Bonustracks wurden vom Soundmeister Jon Astley im halfspeed-mastered-Verfahren neu abgemixt. (VÖ 12. Juni 2021)


The Who Sell Out - Super Deluxe Edition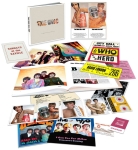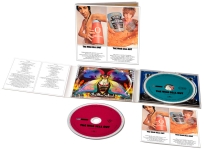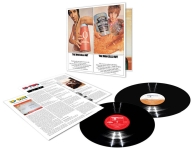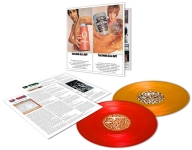 The new Super Deluxe Edition of
The Who Sell Out
features on 5 CD's 112 tracks, 47 of which are unreleased, an 80-page, hard-back full-colour book, including rare period photos, memorabilia, track by track annotation and many memorabilia and replicas. Various slim editions on 2-CD, double black and double coloured vinyl are available. In 1967 the original plan was to sell commercial advertising space on the album. Instead the band opted for writing their own jingles linking the songs stylised as a pirate radio broadcast. Pete Townshend:
"We were hoping to get free Jaguars. We got fifty free tins of baked beans."
(Release date 23. April 2021 on UMC/Polydor)

Die neue 5-CD Super Deluxe Edition von The Who Sell Out ist ausgestattet mit 112 Songs, davon 47 bislang unveröffentlicht, mit Anmerkungen zu jedem Song, einem 80-seitigen Buch und vielen weiteren Beilagen. Unterschiedliche Auszüge aus der Edition sind auf 2-CD, sowie schwarzen und farbigen Doppel-Vinyl erhältlich. Der Originalplan von 1967 war, freien Werbeplatz auf dem Album zu verkaufen. Stattdessen zog die Band es vor, selbst einige Werbemelodien zu schreiben, die die Songs im Stil von Piratenradiosendungen miteinander verbanden. Pete Townshend: "Wir hofften, Jaguar-Sportwagen umsonst zu bekommen. Wir bekamen 50 Dosen mit gekochten Bohnen umsonst." (VÖ 23. April 2021 auf UMC/Polydor)


Record Collector Presents The Who
The latest Record Collector magazine Special Edition will thrill fans of the explosive rockers, one of the most successful and most collectable British bands of all time. With fantastic features and interviews from the Record Collector archive, newly commissioned pieces from some of the best music writers out there, and in-depth looks at their most sought-after records and memorabilia, it'll resonate with rock lovers of every g-g-generation. (Release date 11 February 2021)

Das englische Magazin Record Collector widmet sich in seiner neuesten Spezialausgabe ganz The Who. Viele Artikel, Interviews und Einblicke in Schallplatten und Sammlerstücken bilden den Inhalt des Heftes. (englischsprachig, VÖ 11. Februar 2021)


Record Collector shop

Essential (3CD)
Universal/Spectrum has released a new 3-CD collection containing 49 tracks from The Who's 55-year career. It comes at low price in a 3-part foldout card cover with no booklet. (Release date 16 October 2020)

Universal/Spectrum haben eine neue 3-CD Zusammenstellung mit 49 Songs aus der 55-jährigen Who Karriere herausgebracht. Kommt zum Niedrigpreis in einem dreifach aufklappbaren Pappcover ohne Begleitheft. (VÖ 16. Oktober 2020)


The Who News Archive

The Who Onstage 1969-1971 by Stewart Hellman (Book)
This book features 125 photos Stewart Hellman shot from front row orchestra seats at Woodstock, Fillmore East, Tanglewood Music Shed and two gigs at Forest Hills Tennis Stadium. It is available in paperback and hard cover (coffee table) forms and can be purchased from amazon.com and barnesandnoble.com and many other sites.

Stewart Hellman's Buch enthält 125 Fotos, die er in Woodstock, Fillmore East, Tanglewood Music Shed und bei zwei Konzerten im Forest Hills Tennis Stadium unmittelbar vor der Bühne aufgenommen hat. Es ist als Paperback und Hardcover erhältlich und kann unter anderem bei amazon.com und barnesandnoble.com gekauft werden.


The Who Lost Albums by Brian Stefans
Brian Stefans created a website that imagines additional albums for the Who's career, including an LP under the name of the High Numbers. Brian did a really notable job gathering together and organize all the non-album tracks that have appeared on the streaming services. He has even designed covers and each album also has extensive liner notes with partly fictional explanations of how the albums came to be.

Brian Stefans hat eine Webseite mit denkbaren zusätzlichen Who Alben gestaltet, inklusive einer High Numbers LP, und hat dabei wirklich bemerkenswerte Arbeit geleistet, die ganzen bisher nicht auf Alben erschienen Songs über Streaming Services zusammenzustellen. Brian hat hierfür sogar Plattencover entworfen und zu jedem Album eine ausgiebige Entstehungsgeschichte geschrieben.


The Who - The Lost LPs

The Who Cup by Daphyl's
Daphyl's proudly brings the world of Rock 'n' Roll to our youngest generation. Give your little one a lesson in music history with this legendary The Who

Union Jack

Insulated Sippy Cup by Daphyls. This stylish design features a locking and spill proof lid with an easy to clean soft spout. Perfect for your own cool rockin' toddler. Discover many The Who and other bands products at Daphyl's shop.

product information

Daphyl's shop
---
© 2000-2021
This site is hosted by Christian Suchatzki, Germany
chris@the-who.net